all you need to know about bedspreads
While furnishings, wall decor and carpeting all add to the ambiance of your bedroom, your bedding will naturally be the centerpiece. It has to be functional, of course, and comfortable, but it must complement the room as well. If you don't have the perfect bedspread just yet, don't despair. The right one is out there just waiting for you!
how to choose your new bedspread
Bed spreads come in a wide variety of colors, textures, styles and weights. The sheer number of choices can seem overwhelming. If you're having trouble choosing, here are a few things to consider before you start shopping.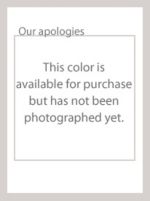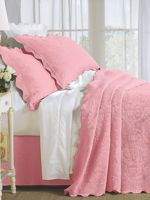 Style - Take a moment and think about the style of your bedroom. Is it ultra modern? Or do you prefer a more understated look? Are you trying to match existing pieces? Or are you giving your bedroom a head-to-toe makeover?

Choose a bedspread that fits your theme. A bright, quilt-patch pattern would be the perfect match for an antique bed, for instance, while elegant matelasse bedspreads in tones of cream or white can make a striking contrast to dark-toned wood. If your ideal bedroom is more modern, consider something fun like dot chenille or even a tiger print.
---
Color - We all have a favorite color, and that color is probably already represented in your bedroom. When choosing a new bedspread, you can try to match the existing colors in your room, highlight them with a rainbow of tones all in the same hue, or choose a contrasting color.

A contrasting color is often the most visually stunning. Dark colors showcase lighter ones, for example. Hues from the opposite ends of the color spectrum also make a dramatic pairing; orange with purple, for instance, or pale yellow with navy blue. Choose a color for your bedspread that makes it really stand out while also showing off the other colors in the room.
---
Purpose - Bedspreads have many purposes. They can give your bed a finished look. They can keep dust and pet fur at bay. They can also add another layer of warmth in the wintertime.

Decide which of these qualities is most important to you. A light-weight spread with a drop ruffle would provide maximum coverage, while quilted bed spreads are perfect for adding a cozy layer of warmth.
---
Size - If simply matching the size of your bed is the first thing that comes to mind, think again.

Consider how much of the bed you want to cover. A coverlet, for example, is smaller than a full sized bedspread. Spread across the foot of the bed, it can function as a nice accent piece, showing off the beauty of a blanket or quilt underneath. It can also give your bed a layered look when combined with another, larger piece. If you want your bedspread to elegantly sweep the floor, giving your bed a more manicured look, then a full-sized bedspread is the right choice for you.
Once you've decided which bedspread is perfect for you, don't think you need to limit yourself to just one. Changing your bedspread can be a quick and easy pick-me-up for your room. You can change your bedspread to match the season, the weather, or even your mood.