all you need to know about chenille
The term "chenille" evokes a sense of casual comfort for many people. But just what is it? The word derives from the French for "caterpillar," and the high, fluffy pile of chenille is definitely reminiscent of those curious creatures. Technically, it's a high-pile yarn that's woven into fabric to create interesting patterns and textures. Chenille bedding is usually made from cotton but may be blended with linen, silk, rayon or wool. At Linensource, all of our chenille bedspreads and bedding pieces are 100% cotton.

Chenille was incredibly popular in the 1940s and 50s. Many people today can remember their mother or grandmother looking stylish in a chenille bathrobe. Chenille bedding remains popular not only for its vintage appeal, but also because of its design versatility. It can be used to complement décor that's romantic, playful, shabby chic, traditional, modern or sophisticated.
---
patterns, patterns everywhere
The pattern of the chenille plays a big part in the overall style and appeal. From playful polka dots to dramatic damask, there is a design to please every eye. The straight-line pattern may be the most traditional, but even that has been updated in our Chic Chenille collection which features thick rows of plush chenille for plenty of texture with modern look.

Not only does the pattern of the chenille affect the overall look of bedding, so does the color. For example, the spicy "Rio Red" color of our Chatham Chenille Bedspread gives the covering an exotic appeal, but the same product in "Aqua Mist" looks perfectly suited for a relaxing retreat. And no matter what pattern chenille bedding is made in, one thing remains true?it's always irresistibly soft to the touch.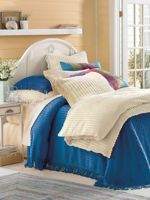 selecting chenille bedding
Because of its unique texture, chenille is typically limited to use for bedspreads, duvets, coverlets, pillow shams and bedskirts. Though it has a velvety hand, the thick pile makes it impractical to lay directly on. Look for chenille bed coverings in the same size proportions as other types of bedding.

Bedspreads are the most formal of coverings. Chenille bedspreads should kiss the floor on three sides with enough fabric at the top to cover the pillows. Bedspreads are usually considered more decorative than functional and are meant to be removed at bedtime. However, our chenille bedspreads are machine washable, making daily use more practical.

Coverlets and duvets are more casual. A chenille duvet cover should be large enough to hide the box spring on three sides but without extra material to cover pillows. Bedskirts and pillow shams give coverlets and duvets a more complete look.
---
care and keeping of chenille
Though Linensource chenille bedding is machine washable, spot cleaning reduces wear and tear on bedding products without sacrificing cleanliness. Due to their more dramatic proportions, chenille bedspreads can be difficult to fit into many household washing machines. Wipe stains or spills with a damp cloth as soon as they happen, and vacuum bed coverings between washings to keep them dust free. When it is time to launder your bedding, follow the care instructions and you chenille will stay soft and fluffy for years to come.

There's no denying that chenille is a specific look. If you're still not certain this fabric is for you, experiment with accessories before making the commitment to purchase a complete bedding ensemble. Extras like throws, accent pillows and area rugs made from chenille add a touch of color and coziness to any room.